Since the mic sessions jamming over B-sides as they were in 1991, WBSS have grown to encompass a varied palette of styles. The humble 'DJ + MC x FX' beginning has led to a production aesthetic quite unique in the Australian musical landscape.
Originally preferring reggae & hip hop, WBSS expanded their sound to incorporate elements of soul, jazz, latin, funk & breaks. It's a truly 'global' musical mash-up. Hundreds and thousands of Australians have watched and heard the evolution of this country's premier groove outfit on radio, through their recordings, on soundtracks, via their remixes and
collaborations, at festivals and in concert, headlining both their own tours and nationally supporting the likes of Ben Harper and The Fugees. Having developed a truly unique production aesthetic, the Wicked Beat Sound System stand alone as electronic soul pioneers in Australia.
The first album release, Music From The Core, didn't so much as scream out from the pack as tastefully step aside. The very first single release, Summer Sun, became an Andy Glitre anthem at Triple J, the follow up single, Local
MP supplied the leg-up their music demanded to reach a broader audience. These tracks were also appreciated internationally via compilations from
Canada & the USA and on the soundtrack to French film 'Clubbed To Death (Lola). Refusing to be a fad, they accepted the remixing gigs they chose to. They directed their tracks onto compilations and film scores they were personally into. And they approved the collaborative works they were genuinely interested in. Artists like Yothu Yindi, DIG, Deborah Conway, Iva Davies, Christine Anu and Renee Geyer.
After the release of album number two, Inna Styles, WBSS toured like crazy, earning themselves legions of fans around the country gob-smacked by the live Sound System experience. Three tracks off Inna Styles, I Don't Wanna

know, Church of Al Green, and Stay With Me Til Dawn were added straight to national radio and TV (Alchemy), while two others off the album, Cookin' with Kazz and Genie of the Lab maintained their dancefloor presence. In 2000 they picked up two more award nominations: an ARIA nomination for Inna Styles and a Dance Music Award nomination (DMA) for Best Band. Their work ethic earned them a rock solid reputation and secured them festival gigs nationwide – from the Perth International Arts Festival to Vibes On A Summer's Day.
Following the release of New Soul Breaks in 2002 WBSS continued to push their message with Lindas radio hits "I Want to, "Brand New Day" along with MC Kyes dark excursions "Do The Tings" and "Ounce Of Swing". In 2002 WBSS were honoured with an Aria "Best Dance Release" nomination for New Soul Breaks.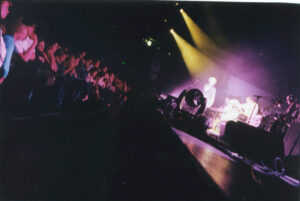 2005 saw Wicked Beat Sound System return with a new critically acclaimed
Long Player, "4ORMATION". This was to be the last appearance from MC
Kye with Wicked Beats as he left the band to concentrate on his solo project Budspells shortly after the release.
In 2007 there 5th album, Hydromajestik was released to a tumultuous
applause and a swag of fine reviews. More in the vein of their previous
Inna Styles album this album featured vocal tracks in addition to dub influenced instrumentals, the first single was "Won't Let Go". After a series of shows up the East coast of Australia WBSS stoped performing live for a period.
2008 saw the release of the much antisipated Dreaming album. Dreaming is a compilation of tracks written for several indigenous dance festivals as well as The Sydney Dreaming Festival. It contains some cooking beat based tracks as well as a few choice vocal tracks sung by the very talented Emma Donovan. For a preview of all WBSS Albums go to the media page.
WBSS history 1991-2001
2001 The year started with a bang in January at the Chandon Festival Bar at the Sydney Opera House forecourt, part of the Festival of Sydney celebrations. The second 4 -track vinyl EP drops containing the WBSS mix of Abi Tucker's 'Move You' and the excellent Hatman mix of 'Can't Give You Up'. February continued the pace with two sellout shows in Dunsborough and (again) the Perth International Arts Festival in WA. The ABC extend an invitation to WBSS to appear on the 'Studio 22' series, slated for broadcast in September 2001. WBSS and Festival Mushroom Records agree to part ways, allowing WBSS more freedom to explore avenues O/S – which is very good news. Tracks completed this year so far: 'Time Marches On' is a bangin' tech -step dub which will appear on a TV1 sponsored compilation featuring electronic artists re-interpreting old classic TV series — WBSS's effort was based on the 'Time Tunnel' theme. 'Corroboration' is another compilation pairing various indigenous artists co-writing new tracks, for which WBSS pair up with opera singer Deborah Cheetham for the track 'Dali Mana Gamarata (Welcome)' which also features the production talents of Andy Page. 'Do The Things' is created for the 'Dub For The Masses'Vol 2' CD release, featuring a (fully cleared!) sample from reggae stalwart Bob Andy (well known for the 1969 Bob & Marcia track 'To Be Young, Gifted & Black'). Good news comes in from the US where Guidance Recordings license the track 'Be Humble' for a 'Hi-Fidelity Dub Session' compilation. In the studio, numerous tracks are being written and work is continuing on the third LP which is slated for release early 2002.
2000 In a busy year, February saw WBSS play the Perth International Arts Festival and the new look Vibes 2000, in addition to performing on the ABC's '10.30 Slot' program. February also saw the release of the warmly received 'Inna Styles' LP. On the live front March 19 saw a great turnout to the Slip Inn for the Inna Styles LP launch alongside Ku-Ling Bros at Slip Inn. A wet & wild time was had by all, despite the premature ending to the WBSS set caused by a near tidal wave of rain. 'Inna Styles' gained 'album of the week' spot on National Youth Network JJJ. Remixes are completed for Yothu Yindi, Professor Ratbaggy, Leonardo's Bride and Christine Anu. Live performances continue, with a June national support for 'Ben Harper'. In September, WBSS perform at the Olympic Arts festival 'Hemispheres' in Centennial Park, Sydney. The 'Inna Styles' LP received a nomination for 'Best Album' in the inaugural 3-D Dance Music Awards and a nomination for 'Best Dance Release' in the 2000 ARIA awards. October 29 saw WBSS perform 2 songs off "Inna Styles' LP at the closing ceremony of the Sydney 2000 Paralympics at Olympic Park Homebush Bay. The year is topped off by some exciting live performances, including the 'Homebake' Festival and sellout shows in Byron Bay and Brisbane. In November 'Inna Styles / Re_Styles' is released – this is a special edition of the 'Inna Styles' LP with a bonus Re_Styles remix CD combining remixes of Wicked Beat tracks (Andy Page, Hatman, Special Projects, Sheriff Lindo) with remixes of other artists by WBSS (Renee Geyer, Abi Tucker, Leonardo's Bride, Professor Ratbaggy)
'99 Production is completed on the second LP 'Inna Styles', The first single, I Don't Wanna Know is warmly received by the ABC's JJJ network, which adds the track on rotation to it's playlist. Vinyl in the form of a 4-track 'remix' EP comes through in November, including remixes from Melbourne's Pound System, Sydney's dub maestro Sheriff Lindo and New York funky house crew F Cubed. The CD single is released as a double A-side pairing 'I Don't Wanna Know' with 'Stay With Me Till Dawn', a cover of the early 80's track by Judy Tzuke. In October the crew scored the soundtrack to a joint French-Australian theatre piece by Plasticiens Volants, titled 'Ngalyod', to be performed at the Brighton Festival in May 2000 and other European Festivals throughout the year, finally performing in Australia, at the Melbourne Festival (2000) and the Sydney Festival in 2001.
'98 August sees the completion of the debut solo LP from rapper Kye: "Budspells". WBSS launch 'I-Rate Records' as an outlet for independent releases. 'Budspells' LP to be released in Feb '99. The second Wicked Beat Sound System LP 'Inna Styles' is in production.
'97 WBSS plays 'Vibes On A Summer's Day' for the third time alongside Propellerheads and The Wiseguys. A track off the LP, "Last Nite" is used in the soap "Heartbreak High". Mushroom Records enters the picture, and a 5 LP deal is struck. Remixes of the next single, "Summer Sun-97" are done by UK remixers Kid Loops and Cool Breeze, of the Dorado / Filter label. Local production luminaries "Raised by Wolves" also remix the tune in a wacky funk-fused tech-step drum & bass style. WBSS complete a remix of Rani Kamahl's "I Have A Dream" which is included on her single "Always On My Mind".
'96 Local Independent label One Movement signed W.B.S.S. to a two-album deal. Although the first LP was finished in October '95, it's not until November 4, 1996 that it was released, due to the time taken to organise distribution. On other fronts, WBSS remix Deni Hines's "Go Slow" in a drum'n bass style. "Local MP" is picked up by Sydney radio station JJJ and is chosen for inclusion in French art-house film "Clubbed To Death" (Lola), known for it's killer soundtrack. The same cut is licensed to New York Label "Eight Ball Records" for their "Easy 2" compilation. WBSS support The Fugees on their Australian tour and then do two killer dates with UK act Galliano at the Metro.
'95 January again sees 'Vibes On a Summers' Day' inviting WBSS to perform at the '95 event. Headlining were DJ Krush and Simon 'Palmskin" Richmond along with UFO and DJ Norman Jay. For many it was a memorable event. Soon afterwards Mds Melbourne commissioned Matt Hayward to compile 'Homebrews', an album of Australian Hip-Hop. Wicked Beat Sound System gave them a fat hip-hop jam, featuring MC KYE titled 'Mecca' for the release. Sessions were booked at Sydney Opera House and production of newer tracks continued. Two soon appeared on 'Undertones Vol III': 'Local MP' and 'Sensi'.
'94 January: WBSS received an invitation to play an outdoor festival in Bondi: 'Vibes On a Summers' Day' and also appear at the Brisbane show -the first interstate spot. The show line up included Gilles Peterson of UK label Talkin' Loud, DJ Norman Jay, local lads d.i.g. and a host of others. A week or two later WBSS support Acid Jazz act Corduroy at the Harbourside Brasserie. That night is recalled by many as a scorcher with the over capacity crowd getting heavily down to it in a classic harbour location.
'93 WBSS continue their original flavours with a self-produced video clip 'Stand Up'. The song was never released in any other format apart from Video but has been programmed on Rage, SBS and other music shows since. WBSS wrapped up '93 with what was at the time, a relatively new concept in Sydney. The "Ragga/Hip-Hop Soundclash" between Dancehall selectors Nasty Tek and WBSS proved a high point for the local scene. December: the special diversity of the crew was manifesting itself in a range of styles: Jazz-Funk, Dancehall, Dub & Soul delivered in a Hip-Hop Fashion. Wicked Beat Sound System then licensed two tracks to One Movement Records for Undertones Vol 1: 'Inside' featuring MC KYE and 'Summer Sun' featuring Linda Jannsen. New year's eve saw JJJ«s Andy Glitre play 'Summer Sun' as the first track of the year.
'92 Song writing began in earnest with rhythms being constructed from elements of Damian & Crucial's selection of reggae/ragga/hip-hop. Lyrical input from MC K.Y.E. and Linda was the final ingredient to convince the crew that this was a project worth some serious effort. Other Sound System activity included a 'Heavyweight Sound Clash' with Dub Conference (featuring the Mighty Asterix) squaring off to Wicked Beat Sound System on the roof of an old Surry Hills warehouse. Later, U.K. reggae legends Steel Pulse were impressed at an after concert party during their Sydney leg. Two weeks later The Wailers offered similar respects to the crew for their after-show party. Live MC's & DJ's were the order of the day. WBSS showed that they could play original rhythms successfully to a local audience. WBSS showcased three early tracks at a Kinselas Thursday night hip-hop jam fresh on the day they're written. By the middle of the year, Linda Jannsen started cutting demos, which revealed a capacity for a smoother, 'soul groove' potential from the crew. Later in the year WBSS are invited to play the "Walk Against Want" concert at Darling Harbour which was used to showcase some of the new sounds. Shortly after this, SBS program 'The Noise' invited WBSS to perform at their 10 year Birthday Party Event at the Graphic Arts Club along with dub-slinger Sheriff Lindo, Koori band Mixed Relations and many others.
'91 Friday & Saturday nights at the Bentley Bar had spawned the 'Wicked Beat Posse' -being Damian and his vintage Akai X7000 sampler, DJ Crucial on the decks and MC / toaster K.Y.E. They were joined occasionally by Linda Jannsen (soul singerextraordinaire) as well as established DJ's like Mark Walton and Scott Pullen. The thing that set these nights apart from the norm was the fact that it extended the philosophy of DJ's with rappers and live sampling to include live percussion, trumpet and saxophone. Although entirely un-rehearsed & at times shambolic, it worked OK in combination with decks and DJ's cutting up beats'n stuff. This led the way for Damian and Dave to set up a MIDI & pre-production studio in an old warehouse on Crown Street ('Syds') and concentrate on the business of building original rhythms. There are about 20 unreleased demos from this era, mostly instrumentals but some featuring ragga vocals from K.Y.E, Ragga Rik and moody soul / funk stylings from Linda.